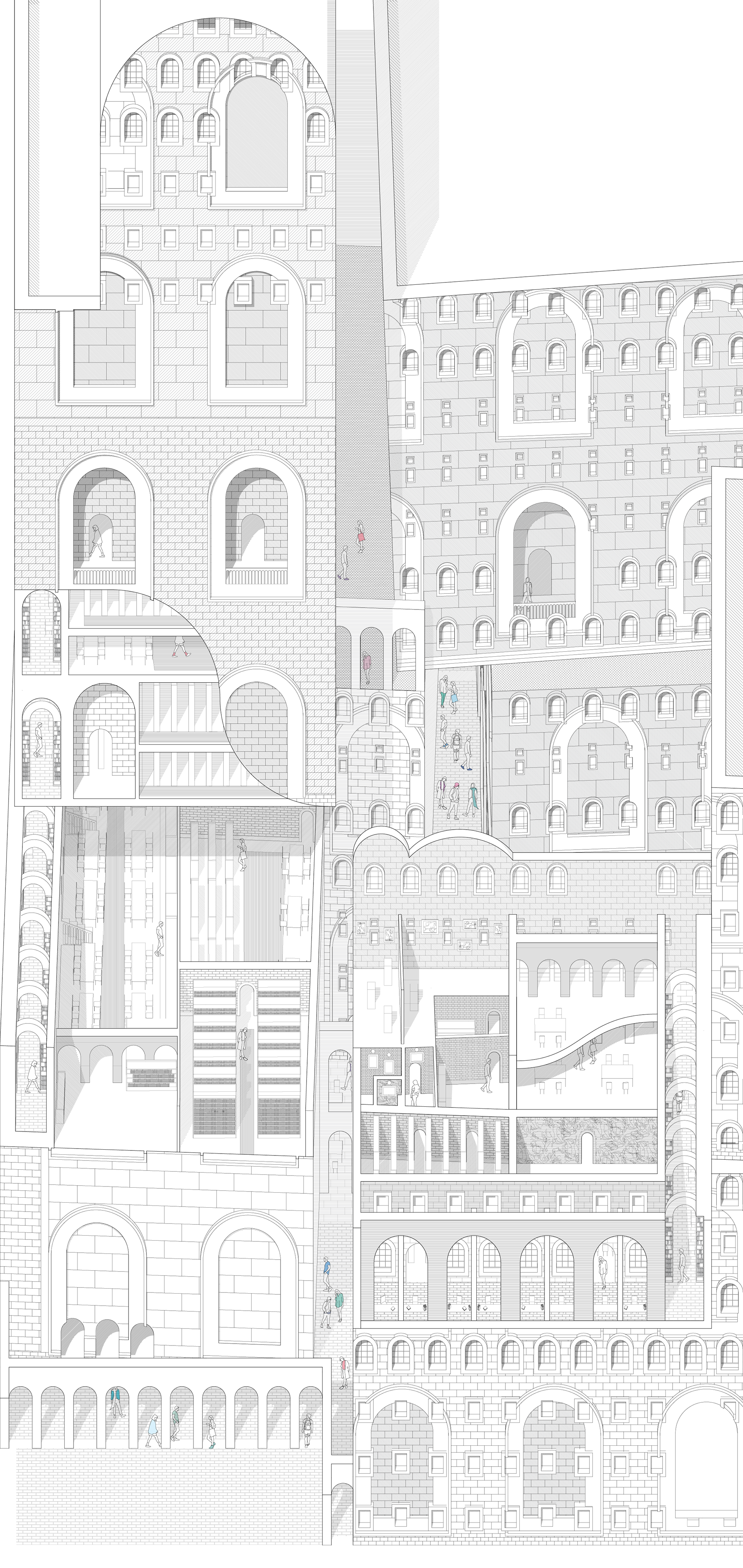 In Chicago's Harold Washington Library, Thomas Beeby describes his design as part Bibliotheque Ste. Genevieve, part shopping mall, and part Monadnock Building. The project uses the same formula of typological mashups of high, low, and local, to produce different results in the Chicago Public Library Competition. It explores how different typologies might coexist within a single building. It is a quest for co-present types to offer new ways to consider the library as a civic urban entity.  
This project uses the process of transforming the genealogy to offer a new approach to the block. Rather than one impenetrable volume, the genealogy of the Boston Public Library and cinema offers a way to fragment the existing block into parts forming a void that becomes just as important. The breaking up allows for these parts to be read as both individual objects as well as an object as a whole. Each part functions like a little library of a specific sequence of entering, navigating through a series of specific rooms, and finding a book. 
A Genealogy of Faulty Sequences takes the Boston Public Library and transforms it by taking its inward facing and enclosed form and unrolling it - learning from the cinema - breaking it apart, and re-configuring to the site. On the interior, the subdividing and overlapping create specific and unexpected sequences that one would experience while getting a book. Through the sequence one would discover a bunch of other spaces situated right around the book, such as reading carrels which are derived from the double facade that comes from the overlapping.  
The breaking up and reconfiguration shows misalignments as well as evident seams on the exterior. As it stands, this library of multiple funnels the public into the many entrances inside the void to experience the variety of sequences that they discover. It allows for them to activate the void as they travel between these four discrete forms.